Incredibly light and strong, Ashton Riley presents it's exclusive titanium range.
Titanium is a lustrous metal with a silver colour, low density, and high strength; making it an ideal material to create quality eyewear.
Titanium is a flexible, non- corrosive material suitable for those with metal allergies. Its longevity puts it a step above plastic and other metallic frames.
Amongst the collection, are the contemporary Dorchester frames. These semi-rimless frames offer a minimalist look with a subtle rim to the top of the lenses and cut-out detail to the temples. Available in black or gunmetal, the Dorchester is a commercial frame that suits all face shapes.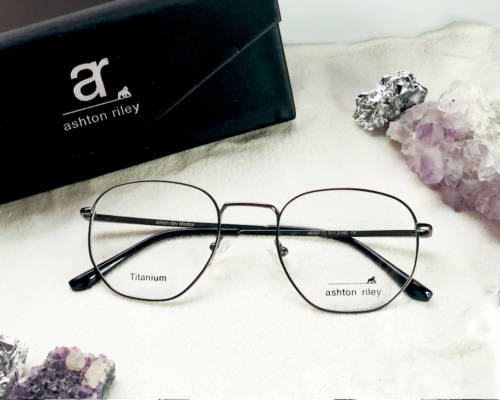 Next in the family are the Windsor frames. A smart, on-trend style available in bronze and silver. This unisex frame is very versatile appealing to a range of ages.
The Mayfair frames offer a softer, more rounded alternative to the Dorchester style. These frames are light and comfortable to wear all day long yet are incredibly strong and durable like all of our Titanium frames.
Last but not least, we welcome the Ascot frames to the titanium collection. A feminine, oversized frame with negative space in the top corners. Suitable for customers wanting to make a statement whilst avoiding the bolder plastic styles.
Available in shiny gold or red.